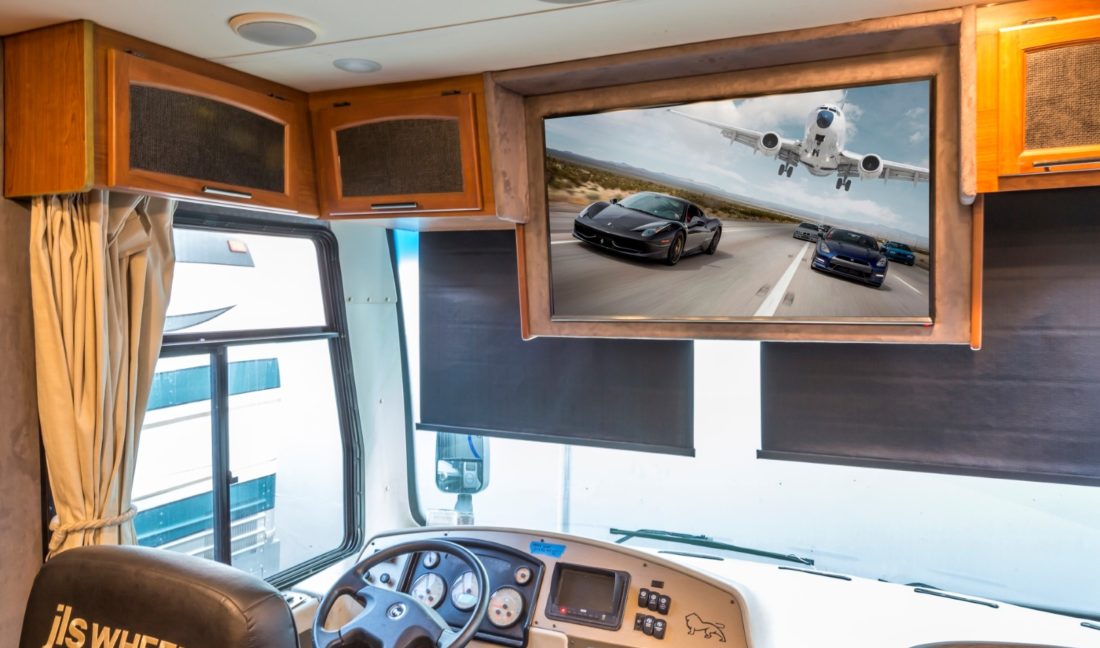 RV Interior Remodels the Right Way!
The 2008 Safari Talent Coach gets a complete RV Interior Remodel!
When Joe came in from his New York headquarters, it always means business.  From the minute this coach arrived to the day it left, we kept in touch on each detail to ensure the proper fitting of mirrors, clothing racks, flooring details, lighting surrounds, and sued wall treatments throughout the coach!
All interior remodels start with tear down and preparation.   It takes about 2 to 3 days to disassemble an RV for new flooring, wall panels, or re-surfacing counters/desks/dinettes/ledges.  This is a very important step, because without complete removal of seats, couches, beds, slideout trim, old flooring, dinettes from slideouts, etc….   the finished job will not reflect a professional result!
What comes next sometimes amazes me at how detailed and accurate our technicians will craft RV interiors.  Working in tight spaces takes a great deal of patience and talent.  Each wall board is hand scribed to fit leaving an 1/8″ at all edges to accomodate the thickness of landeau foam and the fabric when wrapped.  Our workmanship is never second best!
This Safari Coach is the perfect talent vehicle with a rear lift to easily get heavy wardrobe and talent luggage into the RV.   And, there is also a rear side door in addition to the front side door, so talent can enter and exit the coach in 2 different areas that can be separated from eachother.
Check out the interior makeover of the chocolate suede interior wall panels, makeup counters, mirrors, lighting, and modifications we performed on this coach!
If you have any questions regarding RV Interior remodels, RV collision repair, RV Painting, or any RV Repair needs in Orange County, California call us at 714-478-1565!
Maury Loomis
Premier Motorcoach Innovations
1946 E. Occidental Street
Santa Ana, CA  92705
[O] 714-259-7555
[F] 714-259-7575
[C] 714-478-1565
"Industry Excellence since 1972"!
www.premiermotorcoach.com
RV Interior Suede Walls Remodel