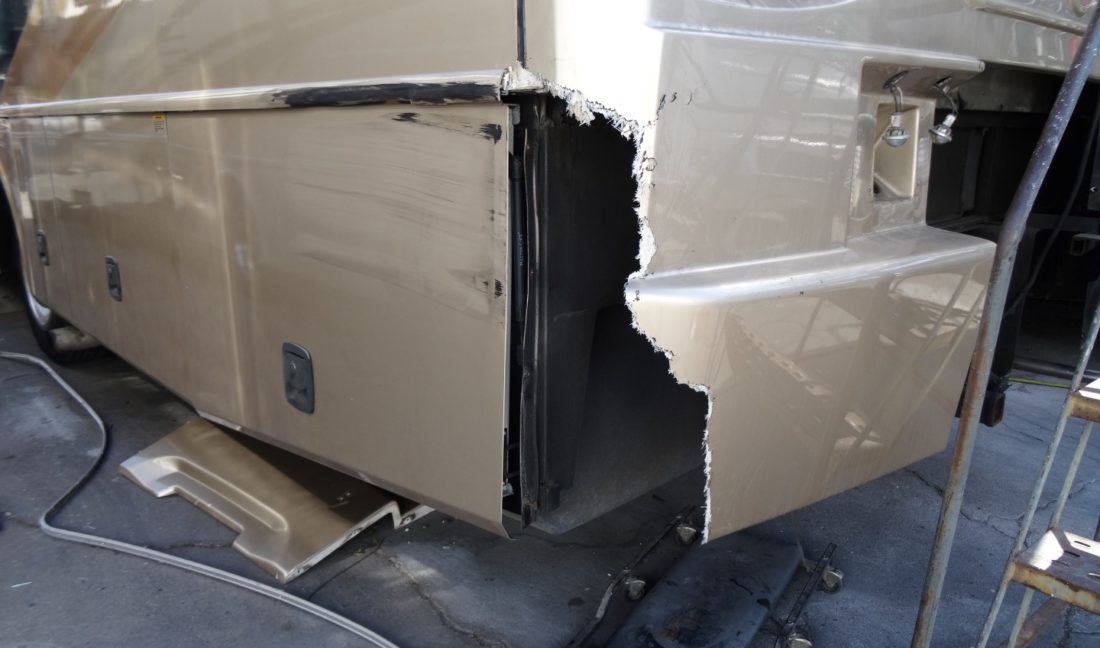 RV Repair at its Finest!
This 2007 Fleetwood Pace Arrow RV came to us with severe rear cap fiberglass damage.   The owner got the rear of the RV cap hooked on a low cement post in a campground near Santa Barbara, CA.  These large vehicles make it difficult to feel or hear anything and the driver didn't even know it had happened until he returned home from the trip.   It's time for RV Repair work to begin!
Once it arrived at the shop, we had to remove the rear RV cap from the coach, repair all the fiberglass cracking and damage, and then re-install the cap.  There are always many small fractures and spider cracks from this type of pulling away damage as the cap is attached all the way around with screws.
We got the fiberglass layed up, sanded perfectly, and filled with bondo at this point.  Then, we had to carefully re-install the cap while attaching all the electrical, filler neck and center panel.
Now that the cap is back on the RV, we are getting ready to paint.
This RV paint job will consist of 4 colors that have been expertly matched and sprayed out.  It always amazes me just how good our painters match the color!
Getting the new moldings on this week and then the 4 color paint job will be applied.  Following paint, the entire rear cap will need to be color sanded and buffed for a baby smooth finish and shine!
Typically this type of RV repair will take 2 to 3 weeks to complete here at our facility in Santa ana, CA.   Most of the time involved is the body work and paint work.
If you have any RV repair needs, please give us a call to review your RV and assist with any questions.  We have been repairing all makes and models of RVs and Commercial Trucks since 1972!
Click here for Videos on our Youtube Channel!
2006 Fleetwood Pace Arrow Rear RV Cap Repair
Rear Cap is off and getting fiberglass