RV Collision Repair with Stunning Results!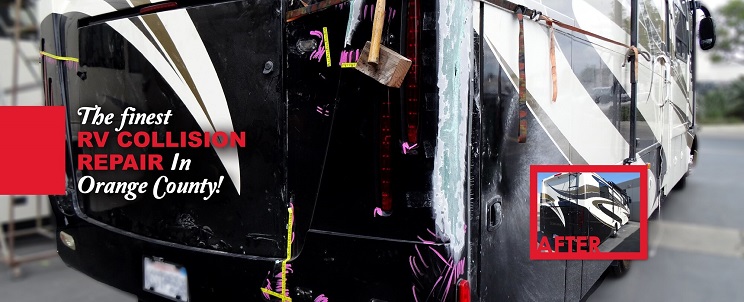 Premier Motorcoach is committed to providing you with the Finest RV Collision Repair and Body Services in Southern California backed by our 100% Lifetime Satisfaction Guarantee!  
We have helped thousands of RV customers since 1972 and now we are ready to help you!
There's no other RV facility that combines the Passion, Integrity, Skills, Experience, and Diversity of Services that we bring to your needs!  And we always go the extra mile to make sure your experience is a pleasant one!
We are here to help!  Give us a call Today at 714-259-7555!
Southern California's Finest
RV Collision Repair and Body Service Offerings:
100% Lifetime Satisfaction Guarantee

on all RV Repairs!
22,000 sqft RV Facility with 50 AMP Service and Fenced Yard
20 Ton HD Frame Machine for Mild to Severe Pulls
Quality Fiberglass Front and Rear Cap Repair
Coach Side Panel Gouges and Checking Repair
Aluminum Baggage Door Fabrication and Rebuilding
Steel Structure Bracing and Welding
Water Damaged Skin and Wood Repair
Custom Paint Schemes and Vinyl Decal Replacement
Roof Damage Repair and Replacement
Trailer Wood Rot and Siding Repair
Master Level Color Matching
Woodworking  and Upholstery Repairs
Trailer Aluminum Siding Repair
Plumbing and Electrical Systems
Awning Repair and Replacement
All Makes and Models of RVs, Motorhomes, 5th Wheels, Toyhaulers, Commerical Trucks and Trailers.
Call us today to get immediate help at 714-259-7555!
Subscribe
Register as a Premier Motorcoach member and gain access to exclusive service specials, monthly giveaways, and newsletter filled with tips and tricks!